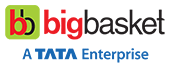 Karela. Lauki. Tinda. These vegetables regularly make it to "Most Disliked Veggie" lists by Indians. Do you dislike them too? Let's see if we can change your mind today!
All these vegetables belong to a family commonly known as gourds. These are the fruits of a flowering plant family called cucurbitaceae.. More
interestingly, gourds are possibly the earliest plants domesticated by humans (archeaological evidence goes back to 13,000 BC!)
Gourds: Good for more than Food
Many gourd varieties have a thick or hard shell. Once the flesh is eaten, these shells are dried and put to a variety of uses.
Noticed the rounded resonators that give the sitar and tanpura their melodious sound? They are made of dried gourd shells!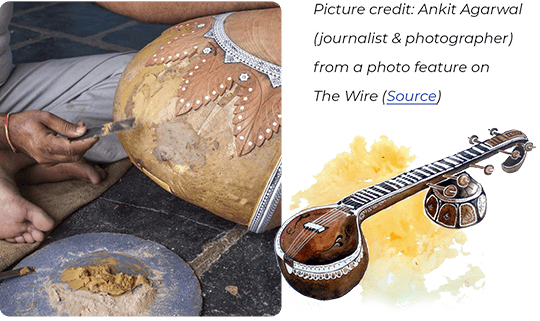 In Africa and the Americas, gourds are used to make decor pieces such as vases, bowls, garden ornaments, and bird houses. Closer to home is the tuma craft, decorative gourd art practised by artisans from Bastar, Chhattisgarh.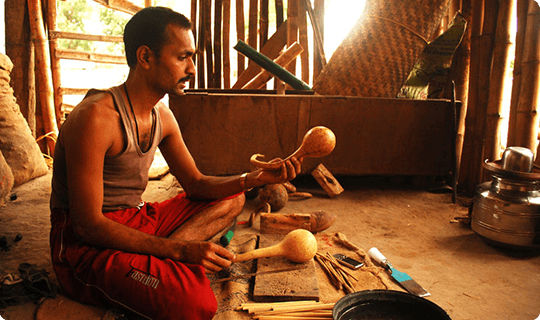 Jagat Ram Dewangan, tuma artisan from Bastar (Source: Dsource.in)
Gourdfathers of Nutrition
Gourds are not particularly tasty (although karela lovers swear otherwise) but they are definitely nutritious. They contain up to 90% water and make for filling low-carb dishes that aid weight loss. Did that catch your interest? Read on.
#1 Bitter gourd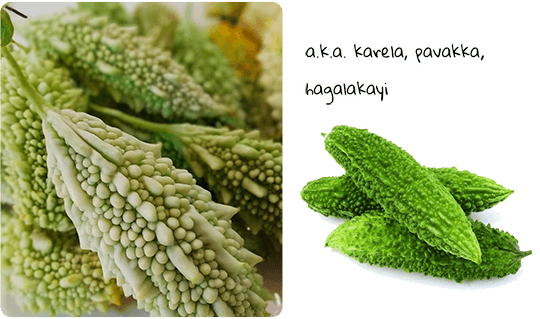 Karela juice for diabetes? For once, the diet gurus are right! Bitter gourd is rich in bioactive compounds saponins & terpenoids that are highly effective in regulating blood sugar. Alas, these compounds also give the veggie its bitter taste. The good news is you don't need to down a whole glass of karela juice. Just 5-10ml will do each day. Even better, eat the
veggie!
#2 Bottle gourd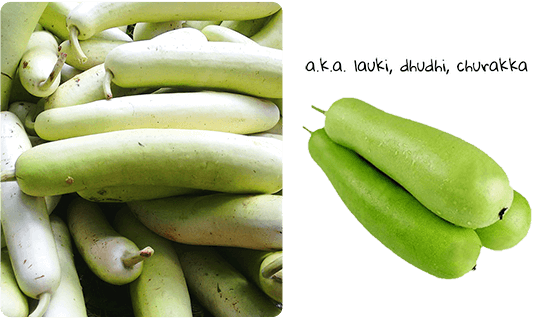 For such a large, firm-looking veggie, lauki is actually 96% water. It also contains plenty of digestive fibre. That's why it's called the weight loss warrior's friend: it keeps you hydrated, replenishes micronutrients (especially minerals) and aids digestion. But remember: it's best eaten cooked, not raw, no matter what the diet fads tell you!
#3 Snake gourd
Strikingly long (up to 4 feet even!), snake gourds grow on vines. Bitter-tasting when raw, this veggie becomes soft and mild once cooked. It's long been used in traditional medicine to bring down fever, as a diuretic, and to aid digestion.
| | |
| --- | --- |
| | Rich in: Manganese, magnesium, iron, vitamins |
|  | Recipe: Snake gourd tastes great in aviyal, a coconut-curd Kerala gravy |
#4 Ridge gourd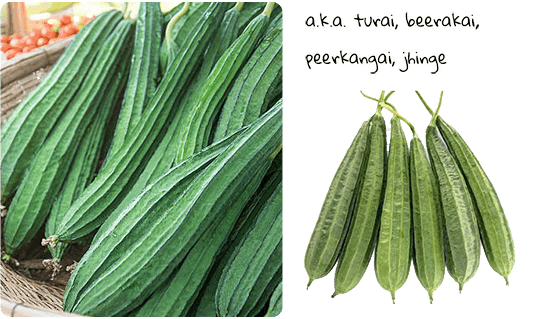 Ridge gourd has an interesting ridged look with spongy flesh and white seeds inside. It is intrinsically bland and readily soaks up seasoning and flavours from the spice mixes we use in cooking. That makes it a versatile addition to a number of dishes! It is beneficial for keeping the eyes healthy and remedying anemia.
Satya, we hope we've shown you how interesting and nutritious gourds can be and just how many wonderful varieties there are. Do give them a try the next time you shop for veggies!
Was this mailer a gourd read? Click to tell us.
Love,
All of us at bigbasket